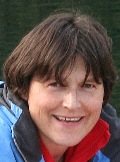 Dr. Radka Ptacnikova
Senior Research Scientists AQUASCALE
Telefon:

07486 20060 83

E-Mail:

This email address is being protected from spambots. You need JavaScript enabled to view it.
Research Areas
Zooplankton ecology, Predatory cladocerans, Aquatic food webs, Biodiversity
I am interested in interactions of zooplankton, as a crucial component of aquatic food webs, with their environment and consequences of these interactions. Having a working experience with a broad scale of water bodies ranging from floodplain pools through lakes of both natural and man-made origin up to the North American Great Lakes, I am intrigued by questions why and how life strategies of zooplankton species differ in various habitats.
Education
MSc. in Systematic Biology and Ecology (1994), Charles University, Prague, Czech Republic
PhD. in Hydrobiology (2000), University of South Bohemia, České Budějovice, Czech Republic
Previous appointments
2009 - 2012: Institute of Chemistry and Biology of the Marine Environment, University of Oldenburg, Germany
2006 - 2009: Norwegian Institute for Water Research, Oslo, Norway
2001 - 2005: Great Lakes Environmental Research Laboratory/NOAA, Ann Arbor, MI, USA
2000 - 2001: Biological Faculty, University of South Bohemia and Hydrobiological Institute, Academy of Sciences CR, České Budějovice, Czech Republic
1994 - 1995: Botanical Institute, Academy of Sciences CR, Třeboň, Czech Republic
Selected publications
Plötner, W. A.; Hillebrand, H.; Ptáčníková, R.; Ptáčník, R. (2014): Heterotrophic flagellates increase microalgal biomass yield. Journal of Applied Phycology. DOI: 10.1007/s10811-014-0286-6 Isari, S.; Zervoudaki, S.; Calbet, A.; Saiz, E.; Ptáčníková, R.; Nejstgaard, J. C.; Sousoni, D.; Berger, S. A.; Ptacnik, R. (2014): Light-induced changes on community composition, production, and feeding behaviour of marine copepods. Journal of Plantkon Research 36(5): 1233-1246. Pichlová-Ptáčníková, R., Vanderploeg, H. A. (2011): The quick and the dead: might differences in escape rates explain the changes in the zooplankton community composition of Lake Michigan after invasion by Bythotrephes? Biological Invasions 13 (11): 2595-2604. Cavaletto, J. F.; Vanderploeg, H. A.; Pichlová-Ptáčníková, R.; Pothoven, S.; Liebig, J. R.; Fahnenstiel, G. L. (2010): Temporal and spatial separation allow coexistence of predatory cladocerans: Leptodora kindtii, Bythotrephes longimanus and Cercopagis pengoi, in southeastern Lake Michigan. Journal of Great Lakes Research 36 (3): 65-73. Pichlová-Ptáčníková, R., Vanderploeg, H. A. (2009): The invasive cladoceran Cercopagis pengoi is a generalist predator capable of feeding on a variety of prey species of different sizes and escape abilities. Fundamental and Applied Ecology 173/4: 267-279. Pithart, D., Pichlová, R., Bílý, M., Hrbáček, J., Pechar, L. (2007): Spatial and temporal diversity of small shallow waters in river Lužnice floodplain. Hydrobiologia 584: 265-275.